Hi everyone!! So I have to say that this post was a lot of fun for me!  I purchased this "Beer Pool" from DRD, which we all know has just amazing textures, and all of their work blows me away. What I didn't know is how awesome their animations are that come with some of their items. Now here's the kicker, I have probably bought 8 to 10 of their full sets, however, because I don't have land of my own, I haven't even unpacked them, lol. I know…why buy them right? Wellllllll…they are pretty! That's my story and I'm sticking to it, lol. Oneday, I will get some land and put up the 8000 houses that I own, haha – For now, you should grab this Beer Crate Pool, it's so much fun and full of awesome animations, different floating animations, dives, jumps, lounging, so many. I'm going to try my hand at including some video here just to give you an idea of how much fun. We'll see how that works out, lol. None-the-less, if you're looking for something a little different than just the regular pool, go get this one, it's small, but adorable, and would make the perfect gift for any beer lovin friends you might have 🙂
Anyway, let's get to todays post. We are being bombarded with bikinis right now..aren't we ladies? It's so hard to choose, as soon as we pick one, someone releases another and then you can't decide, all over again, lol. So today, here is my choice! From VALE KOER, at this round of KUSTOM9. Sugardoll Bikini is compatible with Maitreya,Belleza and Slink Hourglass body shapes. Pretty skimpy, and super sexy, even with the small amount of fabric used to make this bikini, it's sure not lacking in detail. Just wait till you see this up close. Of course it comes with an amazing hud, so you can change all of the parts to just how you want them, hey this time, you can even turn off the little tag in the back 😉 How cute is that!!
You may notice that I changed my shape today…well, I always change my shape, probably daily, and heads too, but I literally changed my mesh body today, and I had a reason behind it 😉 I wanted to go a little thicker with my body for this post, and everyone is always saying that the hourglass is the way to go. So I searched it in my inventory and tried it out. Let me just say, it's been so long that I've not used my Maitreya body, that I was literally confused for a small time with feet and hands, ughh I felt like a noob! I swear, I feel for people just starting out in SL, it's fun, but it's a ton to learn just to make your avatar presentable.
So here I am with my hourglass shape (I just created for this post), new bikini, and wanted to go a lil reggae, a lil edgy, something different, and I have to say I was pretty pleased with the outcome. With lots of help from SUICIDAL UNBORN, I'm wearing her eyes, nails, collar, nipple rings (if you look closely), and lipsticks. SU! always gives me that edge that I love to use often. 
I'm also wearing a new skin and body applier, (which hey, I totally forgot that was the original inspiration of this post and why I wanted to go a little thicker, so I could show off this belly on this skin). I kept seeing the new body applier from ATELIER PEPE, and was intrigued. I have to admit that I wasn't a huge fan of the cleavage that was being shown, but the overall look of the skin won me over, and I knew I could fiddle with the boobage to something I preferred. I actually messaged the creator and she told me that there was a few different cleavage options to choose from, and that was enough for me, SOLD! The biggest attraction for me was the tummy area, the soft feminine look is something that is hard to find, because let's be honest, most people are looking for that rock hard abs look….but not me. I prefer a softer look.  I am wearing the Goddess Body appliers in the Sandy tone ( a little dark ), and the Catwa applier Nani in Sandy to match. I really like the overall look. The body applier comes with appliers for MAITREYA, SLINK PHYSIQUE, SLINK HOURGLASS, OMEGA, & BELLEZA. Now they all come in one pack so they will cost you 350L for the appliers, but that actually works out well for bloggers or extreme shoppers, because we own multiple bodies. For those that want a single applier, I didn't see that option available, but who knows, maybe you could ask.
I decided to wear a tattoo from SPEAKEASY, "Self love" can be found at this round of APPLIQUE. Also from Sn@tch, I've added a sternum tattoo. This one comes in a hud form that has a few different tatts to choose from. It's one of the items from Sn@tch that I just love because of the different choices in the hud.
I added eyebrows from JUST MAGNETIZED. The skin I'm wearing I think may have been a gacha (I know, I'm horrible, such a shopping addict) lol. Anyway, I wanted a darker brow, so where else do you go but to Just Magnetized for all of your brow needs 😉
My hair is from Y-U, and let me simply say that I can NOT wait until this creator releases more hair for women. I just loved this one!
Swallow released yet another gorgeous set of ears. They are currently at KUSTOM9. Magic Pixie ears come with so many options. If you've purchased her ears before than you already know, and these will be a must have like they were for me 🙂
I think that's about all I want to talk about for this post, don't worry, if I didn't mention it, it will still be listed down below in the credits section.  
As always, thanks so much for taking the time to stop by and check out what's going on in my little crazy shopping addicted Second Life. Have a fabulous week lovelies xo
Slow Down….next pic shows animations…
This is only 1, there is tons of them – you'll see a few of the poses also in pics below.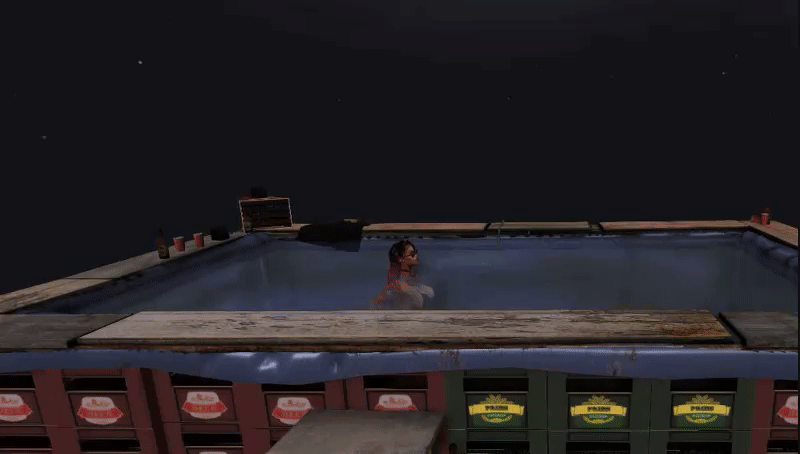 Enjoy!
What a nice day…
to just lounge around….
or even float around….
or maybe we'll take a dive….
The rest will show you poses that come with the set
And finally the accessories….you know I always like to show you everything super close up….There is nothing more aggravating that seeing a blog and something you like, only to get there and see the quality is nothing what you thought it would be, right? No guessing here, Punki will always get you up close and personal 😉
CREDITS:
CATWA HEAD Catya v3.0
Slink Physique Mesh Body Hourglass
Maitreya Mesh bento hands
Slink Avatar Enhancement Feet Deluxe
appliers for head & body – ATELIER PEPE – Body – Goddess Appliers / Sandy tone …..Head – Nani /Sandy tone
^^Swallow^^ Magic Pixie Ears (protruding)@ KUSTOM9 EVENT
Just Magnetized – Perfect Eyebrows set 12 for OMEGA
Y-U: CIARA HAIR "CATWA" WOMEN'S
SU!– Ekrabetha Eyes /Fatpack/ 
VALE KOER – sugardoll bikini – @ KUSTOM9 EVENT
SU! Zath'tus Collar – @ SHINY SHABBY EVENT
SU! Livana Nails .GothBabe. – @ ACCESS EVENT
SU! Ordelia Lipsticks – see Mainstore (these were at Applique last month)
SU!– Nipple Piercings #03 UNRIGGED 
SU!– Ekrabetha Eyes /Fatpack/ 
(Yummy) Sea Treasures – Maitryea
{ Speakeasy } Self love (Omega appliers) – @ APPLIQUE EVENT
:::Sn@tch Sternum Tattoos Omega Applier Hud:::
PUNCH / Mini Disc Belly Chain (for Slink Hourglass)
^^Swallow^^ Open Me Belly Piercing
MaxiGossamer – NoseRing – Maharani
Rebel Gal :: California Sunglasses. (With Materials) Fatpack
DRD – Beer Crate Set – @ THE MENS DEPT. EVENT
DRD – Beer Crate Pool 
DRD – Beer Crate Pool – Steps
DRD Floatie raft – Murica (American Flag)
DRD – Beer Crate Pool – Water Source
DRD – Beer Crate Pool – Raft – Yellow
DRD – Beer Crate Pool – Poolside Towels
DRD – Beer Crate Pool – Poolside Clutter